We have 40 Looms including Vamatex, Leonardo, Sulzer, Italian Looms with Staubli Dobbies (20 Shafts).
We can weave complicated designs in high speed to produce more than 25000 mtrs in a day.
We have international standard fabric warehouse rack system.
The Fabrics are stored with proper identification system!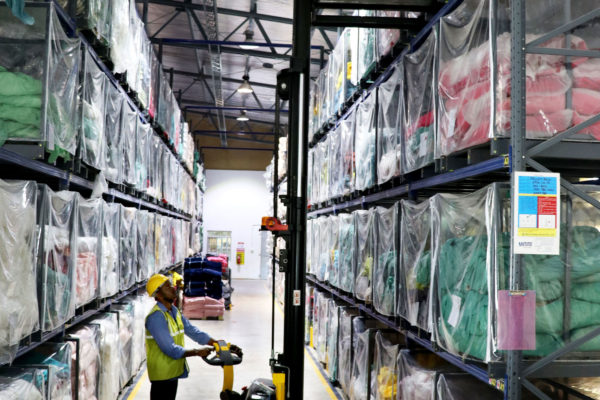 We have the advanced Bullmer High-Ply Cutter D8002S which is usually the best choice for garment industry. Nevertheless, its best suited for our Home Textiles due to its productivity, accuracy & Reliability!!
1. Auto spreader works in high speed over long time with stable quality and high productivity!
2. Automatic CAD marker helps eliminating gap between cut panels thereby fabric can be fully used!
3. Afterwards sewing efficiency is increased by 5% minimum.
4. Just a comparison of Double Oven Glove cutting Qty per day – when we could cut 5200 Pcs manually (with accuracy of 85%)– the Bullmer High Ply cutter achieves massive 21000 Pcs in a day with 99.5% accuracy!
Automation for kitchen towels, aprons & gloves with length slit, length hemming, cross cutting and pattern taker machines.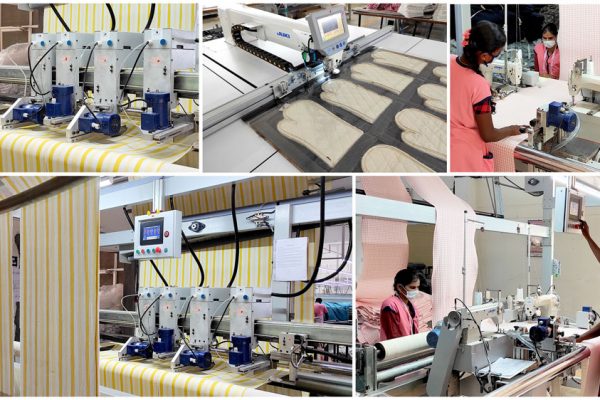 We have 450 Sewing machines and our sewing capacity is 4 million pcs per month! With line supervisors and quality controllers monitoring the quality of sewing all the time - the buyer parameters are always met.
We have the following special machines also to add the Value added finishing to the products we make :
1. Durkopp Adler DOG piping machine
2. Orbito - DOG piping machine
3. Zoje bar tacking machine
4. Snap button machine for sleeping bag/apron button fixing
5. Placemat & Runner Fusing machine
6. Bias cutting machine
7. Band knife machine for Apron armhole & glove shape cutting
8. Richpeace machine for quilting / tucking
9. Embroidery Machine
10. Rambo 128 Chairpad Bar Tacking Machines 7 Nos.
We have the Poly blow fill machines for 3 Tonnes Kgs per day and the advanced Vacuum machines 3 Nos. to vacuum 8000 pcs per day!
Proper Vacuuming  helps us to ship more cushions to satisfy buyers need on time!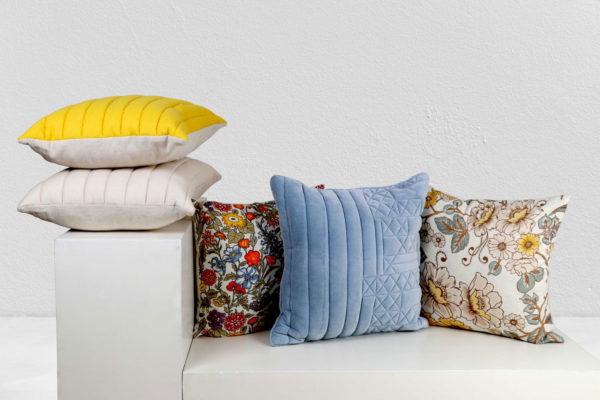 FINISHING & PACKING - LEAN MANAGEMENT SYSTEM
We follow the systematic Lean management system to eliminate waste & to avoid non-value added activities through continuous improvement of simplifying every production flow!
We Strictly follow 5S System & information is made available and understandable at a glance!